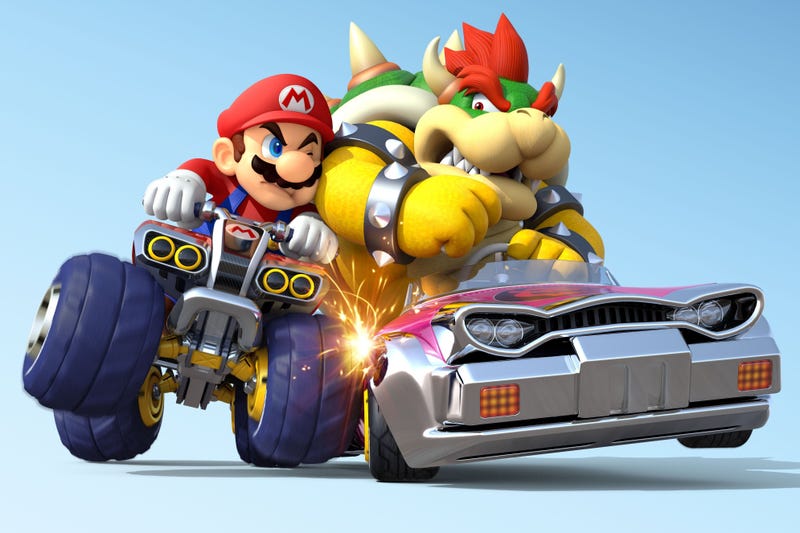 My roommate – let's call him "Alex" because everyone and their mother is named Alex these days and that's his real goddamn name – has committed the ultimate crime.
He and I have been playing Mario Kart 8 for weeks, during which time our separate implicit goals have been for him to earn a podium spot in a 150cc Grand Prix and for me to earn gold in all the Grand Prixs…Prixes…Preeze! My white whale has been the Special Cup, mostly because of the final Rainbow Road track. I've been getting more consistent – My last two tries have resulted in 2nd place wins.
So today, I leave the apartment for THREE HOURS, and he takes it from me. This man has beaten me about three out of fifty times, and now he holds the one cup that I've never gotten. So now he's gone, and I am out for vengeance. Let's do this.
Attempt 1
Today, I'll be racing with the Mercedes Silver Arrow, GLA tires, and the Bowser Kite glider. Most of my recent racing has been done in the Pipe Frame, with a couple tries of the Cat Cruiser, but I'm going back to my roots. I'm playing as my Mii, which I don't often do, but this time it's personal.
Track 1 – Cloudtop Cruise
I've always liked this course, mostly because of the Super Mario Bros. 3 airship and the Galaxy music. I don't think I've ever placed below 2nd on it. Let's see how this goes.
And so of course I get 2nd. Very sloppy first lap. Got struck by lightning on my way through the clouds after wasting a Red Shell on Peach, who had a Piranha Plant and immediately bit me back. Made back some good ground on lap two, but I couldn't quite snag 1st place from Roy. Another lightning strike on lap three pushed me down to 5th, but some clean racing and a lucky "8" power-up pushed me right back to 2nd.
Track 2 – Bone-Dry Dunes
This one vexed me for a long time. Only recently have I nailed things like the bone path and the final section's drifts, but my last two showings were, again, in the top two.
A commanding 1st place finish! Took the top spot right away with a powerful boost out of the gate. Nailed my rival Roy with a Green Shell right after, which I didn't realize until the highlight reel. Super clean for the rest of the race, until a very stupid fall off the course near the skeletal Piranha Plant. Luckily, I had enough distance for it to be a non-issue. Roy and I are now tied at 27 points. Alex claimed to have 1st place in the first three races when he won the cup, so I've already found a new failure to internalize.
Track 3 – Bowser's Castle
Huge swings for me on Bowser's Castle. On my last race there, my first lap was just about the greatest I've ever run. I managed to screw it up later by crashing into the swinging spiked ball and the fire traps. I believe I placed 2nd.
1st place! I had to fight for it – Roy blasted past me with a better initial boost, and he later hit me with a Shell, ramming me off the course while I was still flailing. A couple of Fire Flowers throughout the race allowed me to absolutely blanket the top five in flames. For whatever reason, I did almost no effective drifting in the final push along the boulder path, but it worked out anyway.
Track 4 – Rainbow Effing Road
This is it.
5th. Roy has beaten me by one point. At least I get to watch his stupid face get wrecked by one of my Green Shells in this highlight reel. What's worse is that I had it. I was basically in the top three through the first two laps. Then two disgusting falls in the final lap, and I was done. The last fall happened in view of the finish line, while I was in 2nd place. I could've beaten Roy.
Attempt 2
Alright, new goal: I'm going to equal or best Alex's 1-1-1-2 record. I'm sticking with the same kart. There's probably something more optimal, but I can't afford to learn any new handling right now.
Track 1 – Cloudtop Cruise
I can do better here. No lightning this time.
1st place as if there never was anything else. Never struck by lightning, and I couldn't help but notice that Roy was miles behind for the whole race, slumming it with Waluigi. It's funny how Nintendo randomizes the "good" characters each time, and yet I still yearn to see him fail.
Track 2 – Bone-Dry Dunes
Not much to say about this one. Let's win again.
PEACH. I had it. I took 1st in the third lap when Mario got hit by a Blue Shell. I got a good bit of distance before I hit a Banana Peel that must have closed it, because as I'm rounding the final corner, Peach boosts across the sand, right under my nose. 2nd place. I'm still up by two points in the standings. We can work with this.
Roy is in 11th.
Track 3 – Bowser's Castle
I think I can do this one. I mastered this course before I ever mastered Bone-Dry Dunes.
I don't believe this. 5th place?! I was getting destroyed during the second lap. Hit almost every item and obstacle. Apparently everyone had a hard time with that one, though, because the standings have left me in 1st, tied with Peach, with another two tied for 2nd. This pretty much means I need to earn 1st on…
Track 4 – Rainbow Road
I knew it was too good to be true. I was coming around the final bend, on the outside to use the boost pads. I'm in the zone – I come off the last boost pad thinking "my God, this is it. I did it." At some point in the middle of that thought, I become aware of a red, plumber-shaped thing on the course ahead of me. Mario has taken the inside and just barely edged me out. "It's fine," I tell myself. "He was one of the people in 2nd. I can still beat him by points." At some point in the middle of that thought, I'm hit by a Shell, or what feels like twenty Shells. Peach and Baby Mario, my other two rivals, and Ludwig Von Irrelevant blow past me, as I sputter across the finish line for 5th place. 4th in the standings. Not even podium.
Attempt 3
I'm shaking. I'm watching menu footage of other, much more fun tracks. I want to be done. The Grand Prix select menu shows a gold cup under the Special Cup select. Mario Kart 8 can't tell the difference between Alex and me. And it makes me want to vomit.
Track 1 – Cloudtop Cruise
He'll be home soon. I can't let him find me broken like this.
2nd place won't do. I need peace. I can't rely on Rainbow Road, or even Bowser's Castle for a late victory that will save my standing. I am not mentally prepared for the battle that lies ahead.
Track 2 – Bone-Dry Dunes
Have mercy.
3rd place in the race and in the standings. What bothers me more than the continued failure is the fact that he's going to want to play if he finds me here. We'll play the new Mirror Mode that he unlocked, and I'll probably do better than him. And I can't handle that void of logic.
Track 3 – Bowser's Castle
I've begun involuntarily uttering Thwomp-like grunts.
Oh, thank Christ. 1st place, back to the top of the standings. I was so sure it wouldn't happen. I was fighting right up until the end. Pink Gold Peach was closing fast, after I screwed up a drift, but I was hanging a Shell behind me, and she smacked right into it. I'm starting to hope. And that frightens me.
Track 4 – Rainbow Road
It's not worth explaining the last race. I came in 4th in the race, 3rd overall.
Attempt 4
There is no joy left.
Track 1 – Cloudtop Cruise
1st place. I just want 1st place on these first two. I want to feel comfortable and accomplished again.
Track 2 – Bone-Dry Dunes
Larry Koopa tried to take it from me. I brained him with a Green Shell. I am become death. 1st place.
Track 3 – Bowser's Castle
I am finally on track to best Alex's record. I have 45 points, Larry closest behind with 33. If I were not so full of doubt and rage, I would say I am guaranteed victory.
Track 4 – Rainbow Road
I don't feel anything. 2nd place. 57 points. The gold cup.
There you have it, folks. The secret to Mario Kart is joylessness. On to the Mirror Cups.